Three Good Bills Need Help
April 1, 2021 UPDATE:  HB 195 was voted "ought to pass" by the Criminal Justice and Public Safety Committee on March 4, 2021, HB 307 was voted "ought to pass" by the Criminal Justice and Public Safety Committee on March 3, 2021 and HB 334 was voted "ought to pass" by the Criminal Justice and Public Safety Committee on March 2, 2021.  They will be considered by the full House during the next session, April 7, 8 or 9, 2021.
On Wednesday, February 10 the House Criminal Justice and Public Safety Committee will conduct public hearings on three important pro-gun reform bills.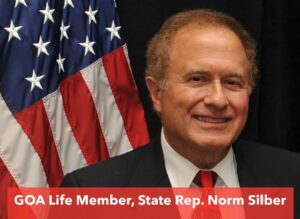 The first, HB 195, sponsored by Rep. Michael Yakubovich will be heard at 10AM.
HB 195 is a simple bill that makes it clear that in New Hampshire, the display of a firearm, to warn off an attacker "shall not constitute reckless conduct." The vast majority of defensive gun uses end without a shot being fired. However, far to often, abusive prosecutors attempt to charge a person who acted in lawful self defense. HB 195 will prevent that abuse.
Then, at 11 AM, HB 307 will be heard. HB 307, sponsored by GOA Life Member, Rep. Norm Silber and four co-sponsors, strengthens New Hampshire's longstanding firearms pre-emption law by adding modest penalties.
Gun owners are entitled to a clear set of laws and rules that are consistent statewide. They have a right to know that conduct that the General Court has deemed lawful, is lawful everywhere in the state. Despite the clear language found in R.S.A. 159:26, lawless cities, towns and school boards are still attempting to regulate the ownership, use and carry of firearms. HB 307, if enacted, will put an end to this lawless behavior.
The last bill, HB 334, sponsored by Rep. John Burt and nine co-sponsors, is a very simple bill that extends New Hampshire's Constitutional Carry law to snowmobiles and ATVs.
If a person can carry a handgun in public, or in their car or boat, then they should also be able to carry one on a snowmobile or ATV without a Pistol or Revolver License. This bill is a clerical amendment to the 2017 Constitutional Carry law. HB 334 is scheduled to be heard at 1145 AM.
Here is what you can do to help.
Please use the above form to send a pre-written message to all members of the Criminal Justice and Public Safety Committee urging them to vote HB 195, HB 307 and HB 334 "ought to pass" without any amendments or changes.
The statehouse complex is closed and the hearings are online. If you would like to speak in favor of these bills click here to sign up. Even if you do not wish to speak, you can still use the link to register your support.
You will need to register separately for each bill. To watch the hearings and speak when your name is called, click here and enter this webinar ID: 995 8824 7178 when prompted.
Recent GOA News & Updates